ALERT: If you're a Social Security Administration or Railroad Retirement Benefit recipient with dependents and didn't file taxes for 2018 or 2019 register by April 22 to receive the full amount of your Economic Impact Payment from #IRS:
www.irs.gov/nonfilereip
#COVIDreliefIRS
The April 2020 Regular Board meeting for the Adams County Ohio Valley School District will be streamed live at the following URL.
https://youtu.be/EiJ2v7EBjGc

This is a reminder to check and make sure your child is completing their school work on Progress Book. If you have picked up a paper packet, you can return it to school and leave it in the crate on the table where you picked it up. Please make sure your child's name is on the packet so they get the credit for the work! Stay safe!

Please encourage your child to complete their schoolwork in a timely manner. You can still check Progress Book and email teachers with questions. If your Internet is unavailable or unreliable, you can contact the school and leave a message to get a paper packet. Please, have your child do either paper or online, do not try to mix them. As always, stay safe!

Normally, school would be accepting applications for the Summer Rural Meal Delivery Program at this time. However, given the crisis with COVID-19, the start of this program has been delayed. Please watch for future announcements about the status of this program.

Update on school work: First, the district indicated that the end of the third nine weeks was moved to Friday, March 13, 2020. All remaining work will be considered part of the fourth nine weeks, or last grading period. Work for the fourth nine weeks from North Adams High School will be available beginning Monday, March 23, 2020. If you have any data or Internet access, the lessons are much more relevant and interactive if your child can do them online. Your child should check their Google email and Google Classroom for assignments. I have also asked teachers to post assignments or directions for assignments in Progress Book so that parents can see them. If your child can see the assignment online, but doesn't have access to a printer, have your child number a regular sheet of paper and answer any questions on the sheet of paper. Once your child is finished with the assignment, take a picture of each sheet of their answers with a smartphone or their Chromebook and share the picture with the teacher via the share function or through email. If you have access to a scanner, you can scan your child's answers and email them to the teacher. If you have access to transportation and need Internet access, Church 180 across from the school and Winchester 3-C-U in Winchester both indicated that students can use their Internet from the parking lot. Please check with these churches as to best times and passwords. If you absolutely have no data or Internet access, paper copies of work will be available at Church 180 between the hours of 10 AM and 3 PM Monday through Friday until further notice. A big thank you to Church 180 for allowing us to place copies there. Take care of yourself and your family, and stay safe!

Any North Adams family who needs food assistance for North Adams students can report to the Winchester 3CU gym on Wednesday 5 -6 PM and Friday 5 - 6 PM. Students will receive food supplies to last for 2-3 days. This pick-up location is for North Adams students only. Thanks to all community members and school personnel who have helped to work this out!
The Adams County Ohio Valley School District will be closed tomorrow, Monday March 16th. Staff should report to their building, as scheduled. School will remain closed until further notice. Please monitor our website and Social Media pages for more information.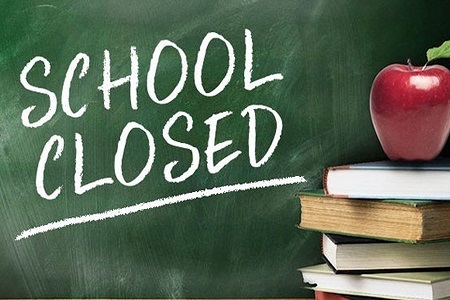 All activities at North Adams have been canceled starting March 16 - April 5. There will be no practices, games, scrimmages, open gyms, try-outs, workouts or trips during this time. Both indoor and outdoor activities are canceled. The governor has directed us to close at the end of school on Monday, March 16th. We are awaiting further direction from the governor about what to do after April 5. The pot of gold that was scheduled for Saturday, April 4th has been rescheduled for Saturday, May 9th. The baseball and softball scrimmages will not be rescheduled. Baseball and softball games and track meets were supposed to start on Saturday, March 28. If we are permitted to play after April 6th, I will let you know about possible reschedule dates. All activities associated with the C103 all-star game have been postponed. This includes the pizza party, scholarship deadline, and the all-star games. I will let you know when I get a rescheduled date.
At 10 am on C103 radio, Dr Hablitzel, Adams County Medical Director/Health commissioner will be discussing Coronavirus and the county's response.
Today Ohio Governor Mike Dewine announced that beginning Tuesday March 17 all K 12 Ohio schools will close, and they will reopen on Monday April 6, 2020. This includes the Adams County Ohio Valley Schools. As accurate information becomes available we will update you. District Staff should monitor their email for further information and updates.

The Winter Sports Awards has been changed to Wednesday evening, March 11 at 7 PM. Refreshments will start at 6:30 PM.
Reminder.. Kindergarten registration is Thursday March 12th for all district attendance areas. Parents get a jump start on your enrollment packet by visiting our Registration Gateway online portal. Click for more details
https://tinyurl.com/t3enwbe

Tickets for the girls regional finals game v. Berlin Hiland at Logan High School are available online at
www.ohsaa.org/tickets
. Presale tickets are $7 plus a processing fee. Tickets will also be available at Logan high school for $8 on Saturday. Tip off is scheduled for 1:30. There is only one game Saturday. We will be having a community pep rally for the girls basketball team on Friday, March 6th at 7 PM in the gym. Go, Lady Devils!

Congratulations to the Varsity girls basketball team for making it to the Regional Finals! They defeated Eastern Brown last night 48-40 in the Regional semifinal game. The girls will play for the Regional championship on Saturday, March 7th at Logan High School at 1:30 v. Berlin Hiland. The winner will go to the state tournament next week! Thank you to everyone who made the long trip to Logan High School last night! We had a large, loud crowd. The players and the coaches appreciate your support! Hope to see all of you again on Saturday!

Students who bring a note for half-day absence on Thursday stating that they were at the ballgame Wednesday night will be excused.

The Varsity girls basketball team will play in the regional semifinals at Logan High School on Wednesday, March 4th at 8:00 v. Eastern Brown. Tickets may be purchased at the door for $8. You may also purchase tickets online at
www.ohsaa.org/tickets
. Online tickets are $7 plus the processing fee. The school will receive a percentage of the online ticket sales. Here is the address for Logan high school: 14470 State Route 328 Logan, OH 43138

Upcoming dates from the Athletic Director: Sunday, March 8 - SHAC winter sports awards at Manchester HS at 4:00 - HS girls basketball will receive their award from the SHAC, and boys and girls basketball players that made all-league will be recognized. Tuesday, March 10 - North Adams winter sports awards - Refreshments at 6:30 provided by the athletic boosters and awards at 7:00 - This is for all HS and JH basketball players and cheerleaders Friday, March 13 - Spring sports pictures will be taken starting at 1:30. Team times will be announced later. Friday, March 27 - C103 all-star game at West Union High School

The required spring OHSAA pre-season meeting is Monday, March 2 in the round room at 7 PM. Any spring athlete that has not attended one of the previous meetings this year must attend this meeting.