At this time, we will not be able to hand out Chromebooks this evening at Back to School Night. Thanks, Mr. Ruckel

Congratulations to Derrick Pell!!!! Derrick had a hole in one in a golf match on Friday September 10th. It was the 6th hole on the Adams County Country Club Course.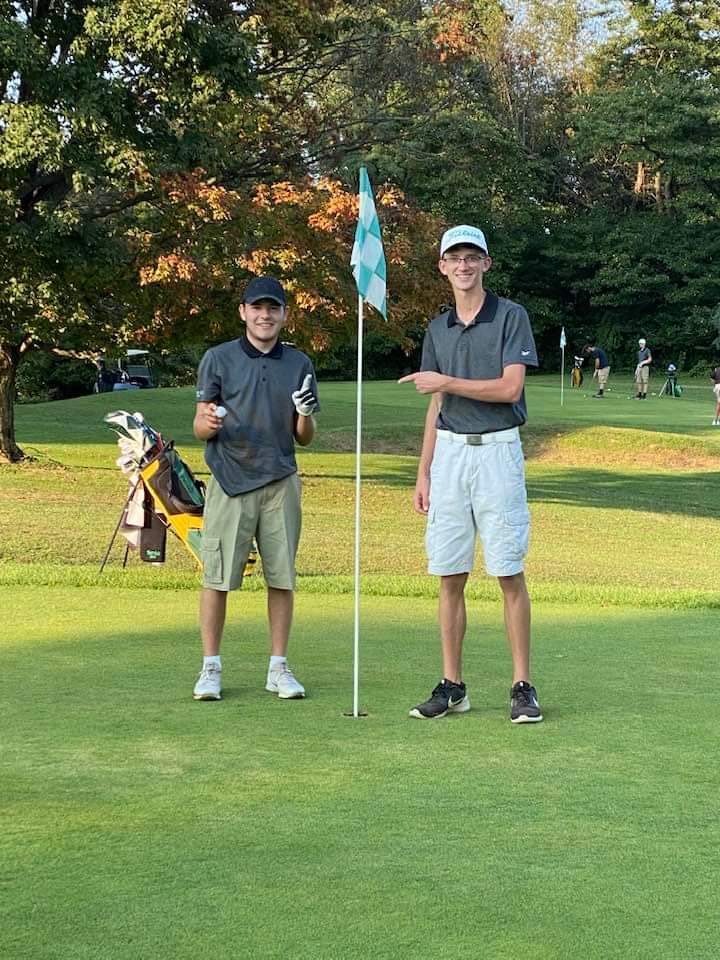 Hello everyone! We are going to have a parent meeting for students who are interested in joining our new archery program. Wednesday, September 15, 6:00 p.m. Thanks, Mr. Chitwood

Picture Day at WUHS is tomorrow Sept 9th.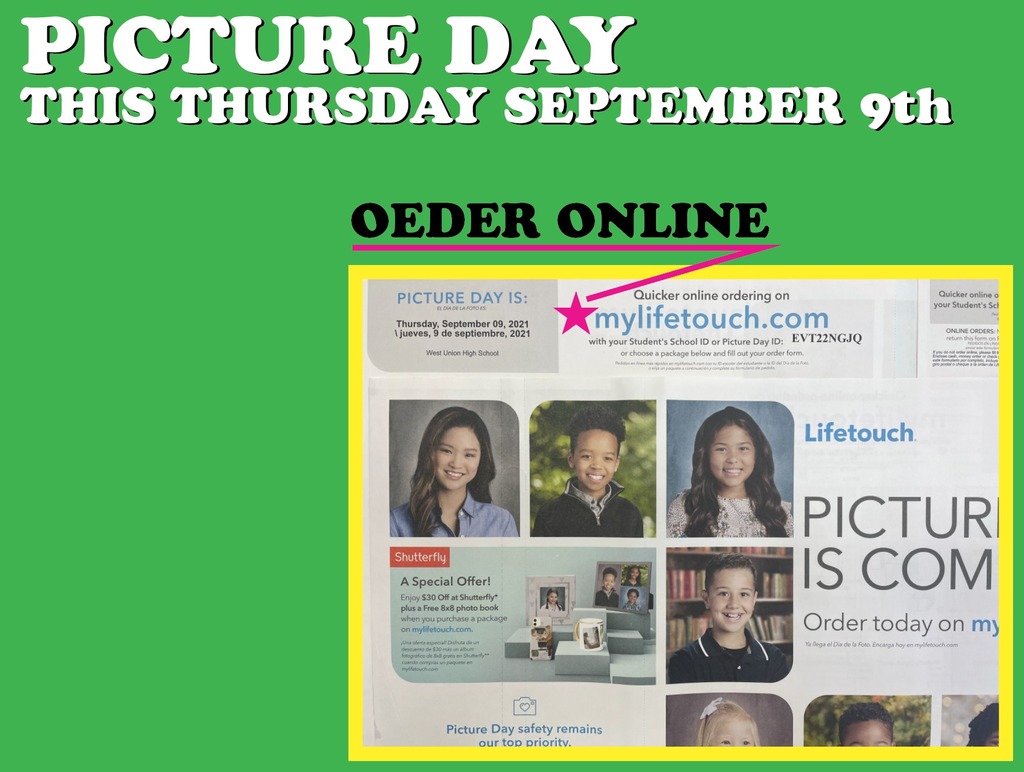 Congratulations to the High School Girls Cross Country team and Coach Megan McCarty as they finished 2nd at Circleville on September the 4th. Addie Shupert was 9th, Makenna Armstrong was 20th, Sadie Armstrong was 24th, and Miley Smith was 33rd. Lydia Armstrong finished 5th in the Junior High Girls race.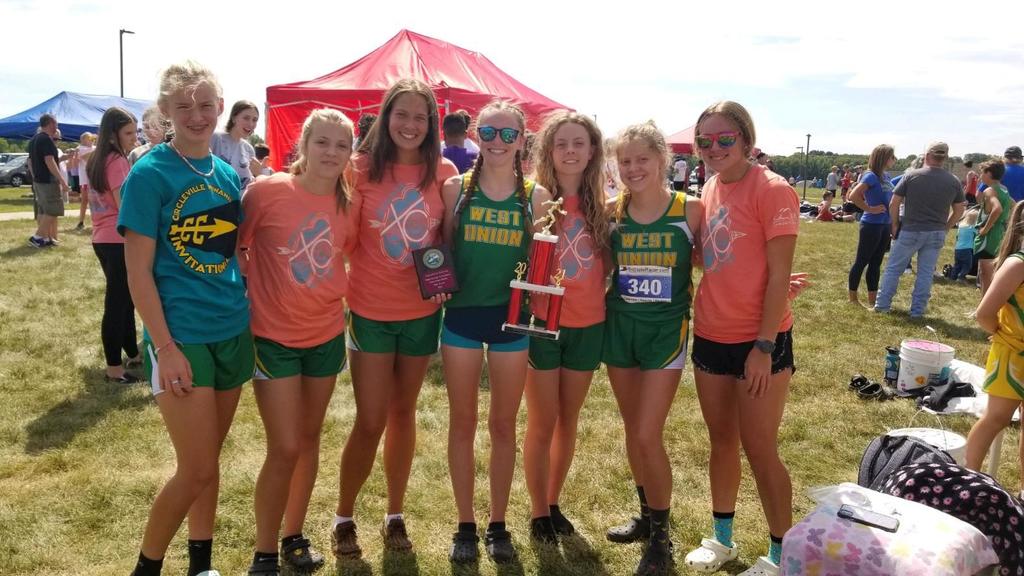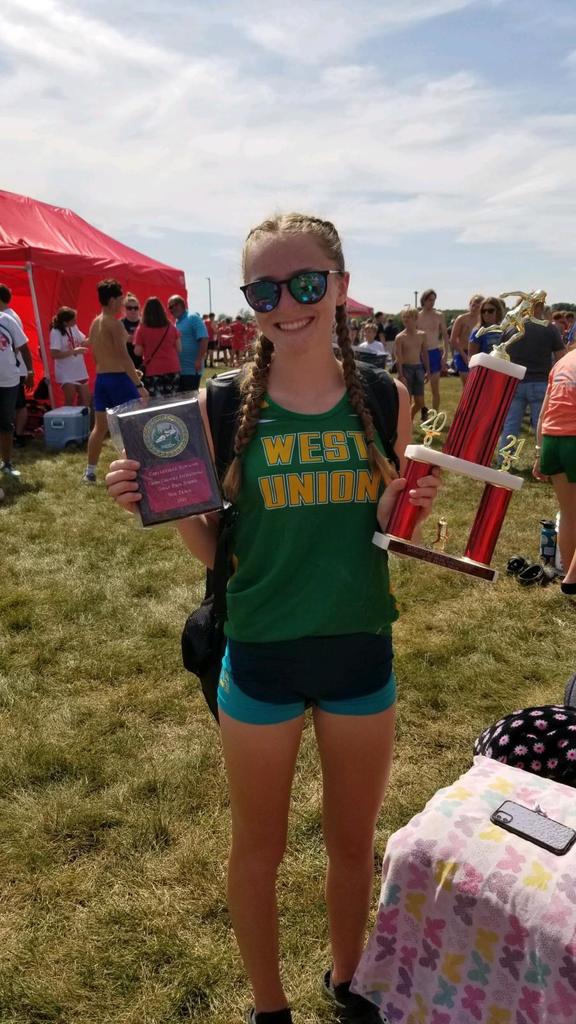 We are Hiring Substitutes in all areas. If you are interested please obtain an application from our district website. Mail to or hand deliver the application along with a copy of your transcripts or High School Diploma to 141 Lloyd Road, West Union, OH 45693.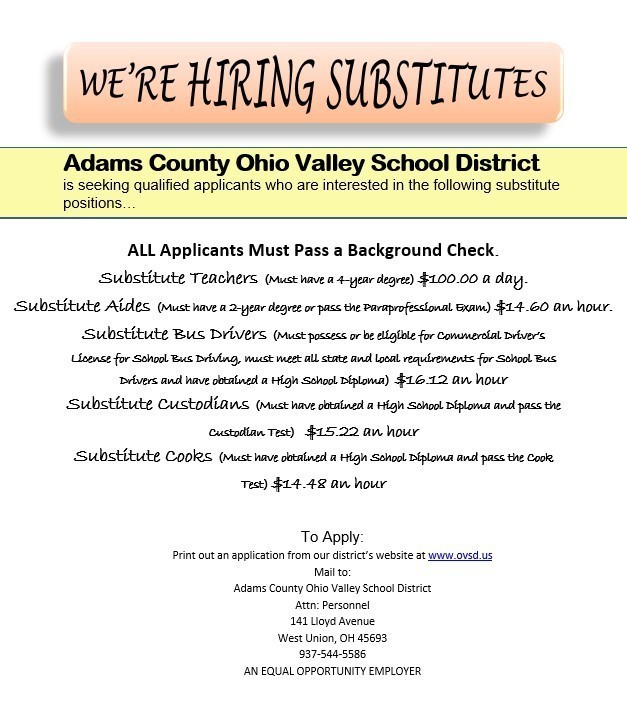 Just a reminder!!! Students if you are not present in the building, you are required to log into google classroom with your teachers. Thanks, Mr. Ruckel
The Adams County Ohio Valley School District will hold their Regular Board of Education Meeting this evening Monday August 30, 2021, at OVCTC beginning at 6:30 pm. The meeting will be also be streamed on the District's YouTube Channel
https://youtu.be/IIxop_oe0a0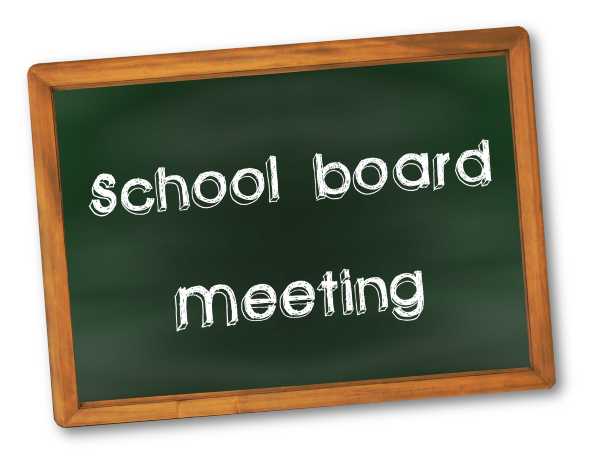 School pictures for students in grades 7-11 will be taken on Thursday September 9 starting at 8 am Senior pictures will be taken on Friday September 24 starting at 8 am. No graphic tee no hoodie.

Congratulations to Lexie Rowe, who picked up her 500th career dig tonight against Northwest.

Congratulations to the Varsity and JV Volleyball teams as they defeat Lynchburg in straight sets.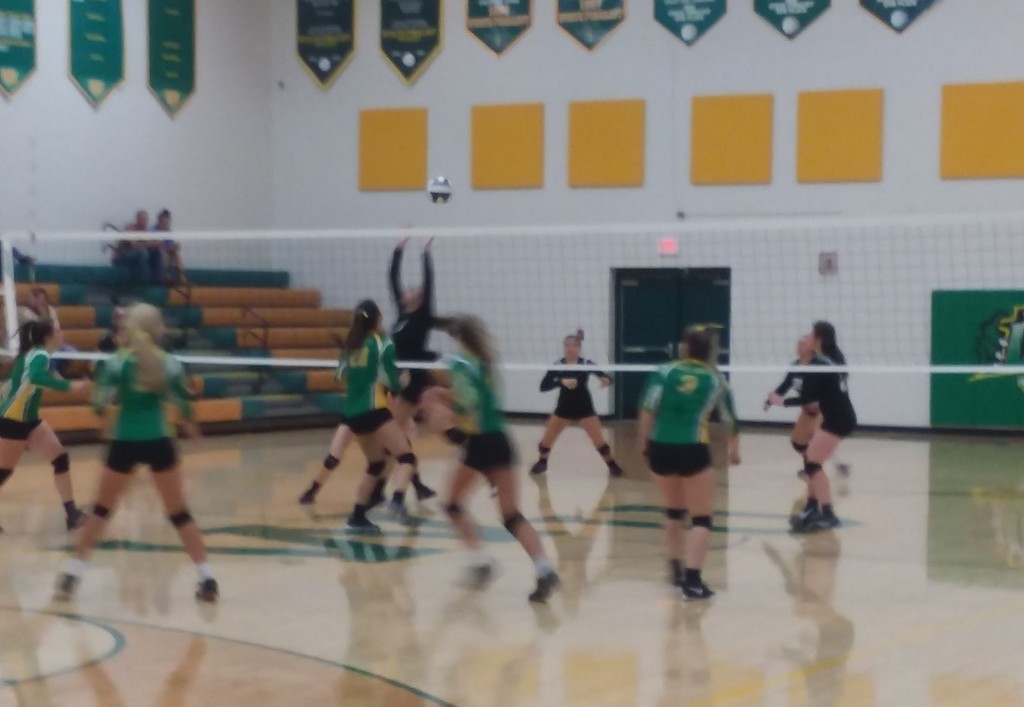 At this time, we will not be able to pass out Chromebooks at Back To School Night. We will be handing them out the first day of school. Thanks, Mr. Ruckel

The WUHS OHSAA parent meeting will be at 6:30 tonight in the round room. Tonight's schedule is Back to school night from 3 pm to 6:30 pm and the OHSAA parent meeting at 6:30.
Reminder, Back to School Night, August 16, 2021. Starting time will be 3:00 p.m. and will end at 6:30 p.m. We hope to see everyone there. Thanks, Mr. Ruckel and Mr. Justice.

Any WUHS student interested in playing soccer can contact coach Kevin Hunter or be at the field from 4 to 6 pm Monday through Thursday.
The Adams County Ohio Valley School District will be holding informational meetings about the online program in each attendance area this week. The meeting dates are as follows: West Union High School, Tuesday, August 10th at 6:00pm. Peebles High School, Wednesday, August 11th at 6:00pm. North Adams High School, Thursday, August 12th at 6:00pm. You do not have to attend the meeting in your child's attendance area. The same information will be given at each meeting. This is an informational meeting only. Adams Virtual Academy will only be offered to students in grades 7 through 12. At this time we do not offer online classes for elementary students. We will be offering a new online program this year and there are requirements that have to be met before your child can be enrolled. For more information you can contact Mrs. Jones at the Career and Technology Center at 937-544-2336. Thank you and have a nice evening.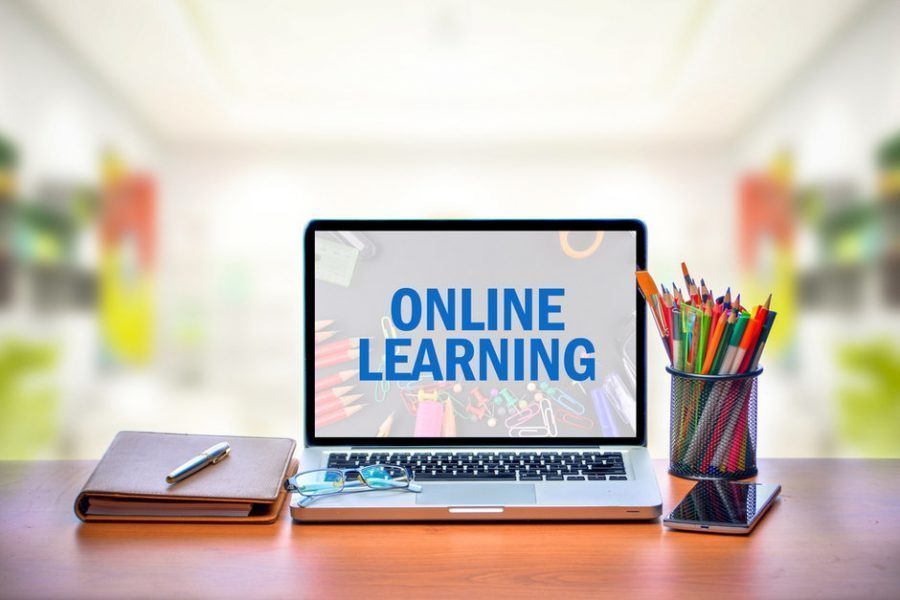 Good afternoon West Union Families and Students. Student Schedules will be mailed this afternoon. Please be looking for schedules arriving. Thanks, Mr. Ruckel
News From the Guidance Counselor's Office Mr. Groom's will have extended office hours from 3:00 p.m. to 6:00 p.m. on Tuesday, August 10, and Tuesday August 17. This is for student changes to their schedules. Please note the following, Schedule changes will not be done during Back to School Night. Thank You, Mr. Grooms.

Back to school Immunization event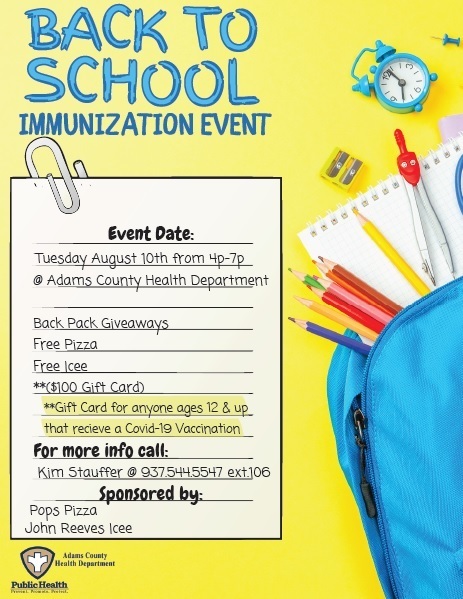 Enrollment for the 2021-2022 School Year is now open for both new and returning students. Please see link below for more information on how to complete your back to school paperwork or enroll a new student in the Adams County Ohio Valley District.
https://www.ovsd.us/article/500752?org=ovsd