AFTERNOON/PM BUS CHANGE TOMORROW-Friday, September 17 *All of Bus 57 students will ride Bus 69 -drop-off times may be a little delayed *Also, Town Route - Nixon Apartments & Gay McFarland's stop (that's usually Carla-Bus 69) will ride Bus 28 (Teauna Swayne).

Due to changes in the system (character limits), I will be sending two messages about bus changes. TOMORROW-Fri., Sept. 17 AM: Bus 69 will be doing double (her route AND Bus 57) for the AM and could be 15-30 minutes later for pick up. Be ready at normal time but prepared if it is later.

ANNOUNCEMENTS: Our first PTO meeting will be Tuesday, September 28 at 3:45 p.m. in our library. If you are interested in helping with PTO events this year, please attend. We would love to have more volunteers! Fall pictures are scheduled for October 14th. More info will come home in October!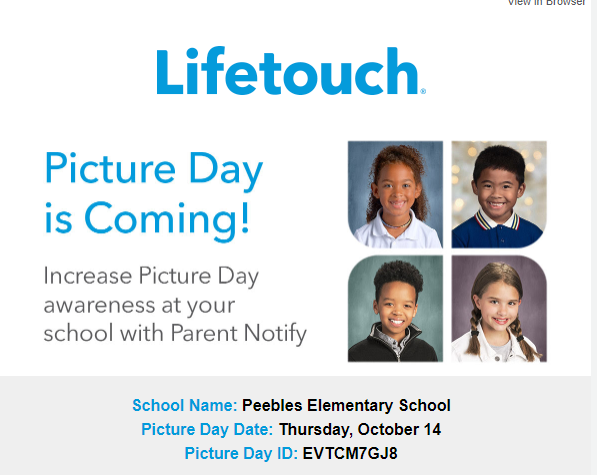 Notification for parents of quarantined or COVID-positive students: If your child is picked up from the school for quarantine/positive test results, he/she will be sent home with classroom materials (chromebook-if deemed necessary by teachers, and textbooks). The teachers may NOT have work available for pick-up until the following Tuesday or Friday. Any make-up work/packets may be picked up ONLY on Tuesdays or Fridays from 9 a.m.-2 p.m. Teachers and front office staff will need time to gather the materials for students; therefore, we are scheduling these dates each week as make-up work pick-up dates/times. You are welcome to call the front office before coming to ensure that there are materials to pick up, as some classes may provide all work online and there may not be a need to come in to pick up supplies. Again, make-up work for these students may only be picked up on Tuesdays and Fridays of each week from 9 a.m. to 2 p.m. We appreciate your cooperation in making these situations much more manageable for all involved.

We are Hiring Substitutes in all areas. If you are interested please obtain an application from our district website. Mail to or hand deliver the application along with a copy of your transcripts or High School Diploma to 141 Lloyd Road, West Union, OH 45693.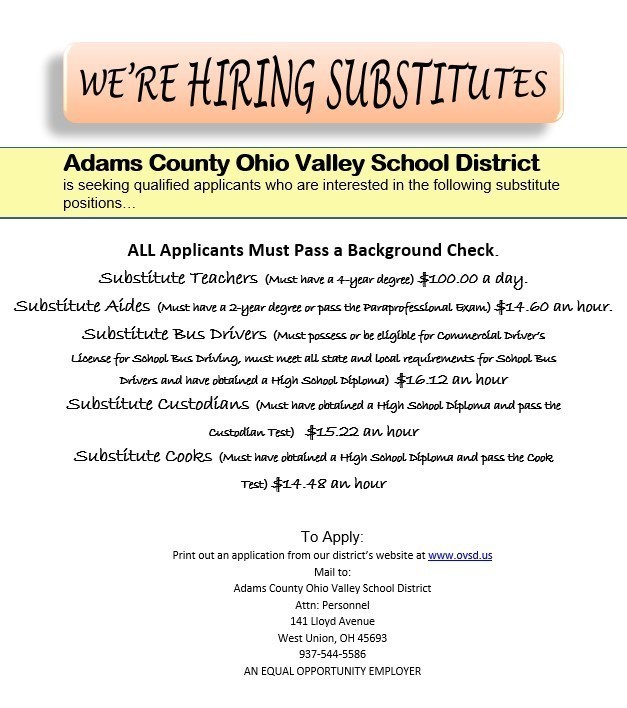 The Adams County Ohio Valley School District will hold their Regular Board of Education Meeting this evening Monday August 30, 2021, at OVCTC beginning at 6:30 pm. The meeting will be also be streamed on the District's YouTube Channel
https://youtu.be/IIxop_oe0a0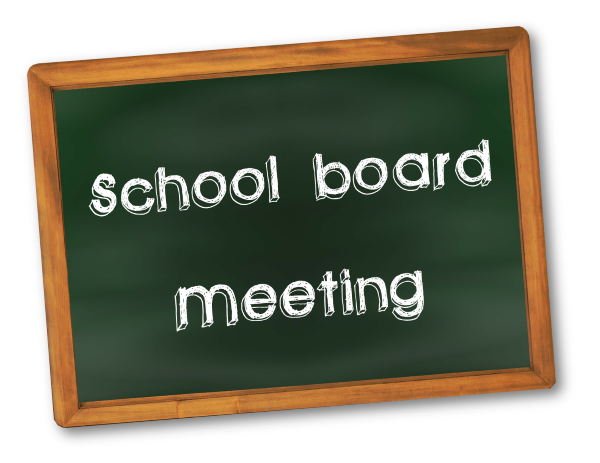 Reminders: 1) NO parents should be lined up for pick-ups prior to 2:30 p.m. We will proceed with asking parents who line up before 2:30 p.m. to exit the lot. 2) Masks are not currently required but are encouraged to avoid quarantine as a result of contact with any individual who may test positive. This is also in an attempt to keep all staff and students healthy/safe. We appreciate your understanding with regard to these two requests!

We want to share some updates with you. Peebles Elementary will continue to operate in-person; only the high school is on release. In addition, Ohio's guidance on COVID exposure (Health Department's protocol/flowchart) will be available on our website/FB page. The chart outlines how schools will address exposures. A key note of the plan is when students are socially distanced and wearing masks, they will NOT be required to quarantine unless they show symptoms/test positive. Therefore, we are RECOMMENDING that staff/students wear masks (even if vaccinated) to ensure safety for all. We understand there may be strong beliefs on masks; we have no desire to enter that debate. Our goal is to keep you informed on how PES will handle situations of exposure to positive cases of COVID. Again, students who are in contact and do not wear masks will be asked to quarantine for a 7 or 10-day period (the district is NOT using negative tests within those dates as a way to return). PES is committed to doing everything possible to keep students in school; this is one step we are taking to keep parents informed and keep students safe. Again, at this time masks are not mandated, but they are highly recommended. For those viewing this message on our website/FB page, the Health Department's flowchart of guidance is attached. Attachments to these messages are not viewable in texts.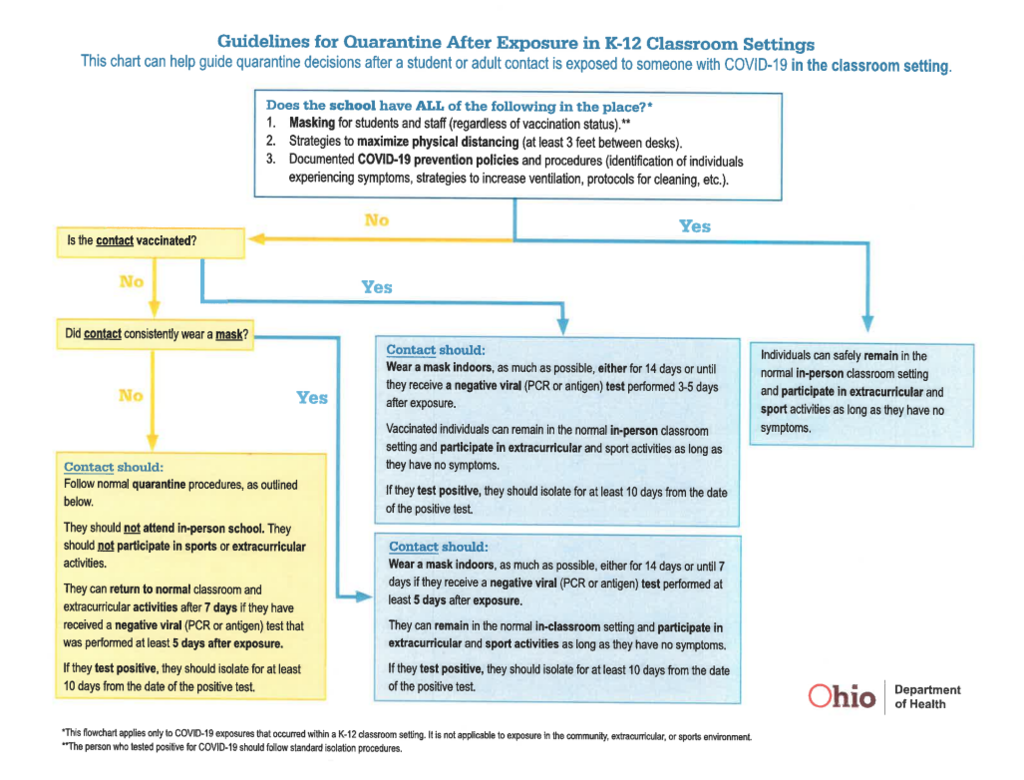 Parents/Guardians of PES Students grades 3-6: If a PES student in grades 3-6 would like to join the Peebles Elementary Cross Country team, please see the following information. The plan is to have one (1) practice per week, which will be right after school. There are approximately 4-5 meets (the first being Saturday, August 28 at 12 noon at Ripley HS). Parent or guardian is responsible for ALL transportation TO AND FROM practices and meets. The following waiver must be completed before participation: PES CC Waiver. Sign up by using "Remind", which be used for ALL further communication. To do this, join the PESCrossCountry Remind group by texting @pescr to 81010, or by texting @pescr to (909)666-9535, or by clicking here. The plan is to have a practice next week before the meet, if possible. Thanks. David Vogler PES Cross Country Coach

Important Info regarding drop-off: ONLY Pre-school and Kindergarten parents (no more than 2 adults per child) are permitted to walk their children to classrooms the first day of school. Pre-school parents will walk children tomorrow; kindergarten girls' parents may walk them tomorrow; kindergarten boys' parents may walk them Thursday. If you plan to escort your PS or Kindergartener the first day, parents and children must wait outside the front main/office entry, on the sidewalk, until 8:25. Teachers will not be in classrooms until that time. ALL parents walking with those students MUST park in the parking lot, not in the drop off circle. Parents must walk their child to the classroom (those students will need breakfast before they arrive because they will miss that option if you are choosing to walk them down the hallway), say their quick goodbyes, and then leave in order to allow all parents this opportunity (parking is very limited). All parents must have exited the building by 8:45, and any parent who arrives after 8:45, will not be permitted to enter the hallways. We are looking forward to our first day back and hope the students are too! Thank you for your cooperation in this matter.

We are excited to be starting the 2021-22 school year tomorrow!!! We wanted to share the start and end times with all parents again. 8:15-Students can be dropped off/enter the building 8:40- Tardy bell rings/all students must be in class 2:30-3:00 (no sooner)- Parents may begin lining up for pick-ups 3:00-3:20- Driveway will be shut down to incoming or exiting traffic to allow buses to enter and exit the bus lot 3:15- Dismissal bell of ALL students (bus riders report to buses; pick-ups report to cafeteria) Buses will dismiss first then all pick-ups/parent vehicles will dismiss, following buses. Also, please do not forget to access the student information forms using this link (be sure to click on Current or New Enrollee to access the correct forms):
https://www.ovsd.us/o/ovsd/article/500752

Peebles Elementary School PTO is looking for volunteers to assist with upcoming school events. If you are interested in being a part of the school Parent Teacher Organization, please email Emily Phipps at
jasphp@aol.com



As we get ready to start the new school year, we ask that ALL parents please take a moment to complete the online enrollment information. This link will take you directly to the site page allowing you to select the forms for students who were already enrolled at PES as well as those who are newly enrolling. Please select the correct option based on your child's enrollment needs. We ask that you complete these online forms PRIOR to your child's return to school on August 18th.
https://www.ovsd.us/article/500752?org=ovsd
Enrollment for the 2021-2022 School Year is now open for both new and returning students. Please see link below for more information on how to complete your back to school paperwork or enroll a new student in the Adams County Ohio Valley District.
https://www.ovsd.us/article/500752?org=ovsd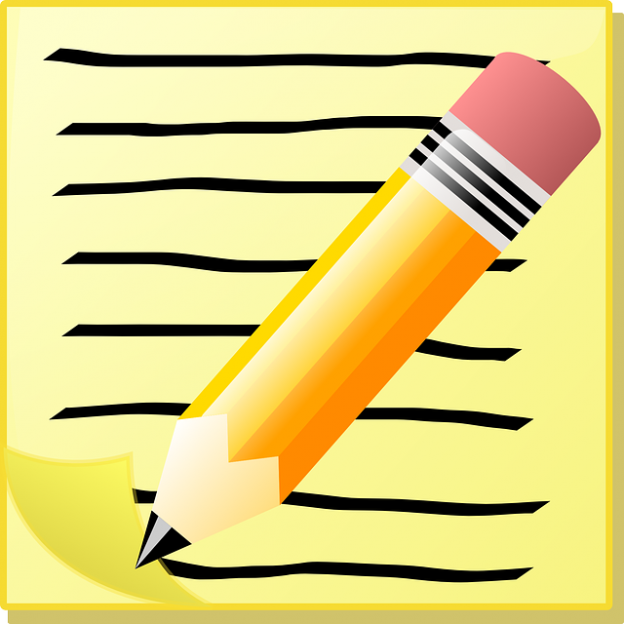 2021-2022 ACOVSD School Start and End Times Elementary Schools: 8:45 a.m. - 3:15 p.m. High Schools: 7:30 a.m. - 2:00 p.m. Ohio Valley CTC: 7:40 a.m. - 1:40 p.m.

Supply lists for Grades 4-6 are attached.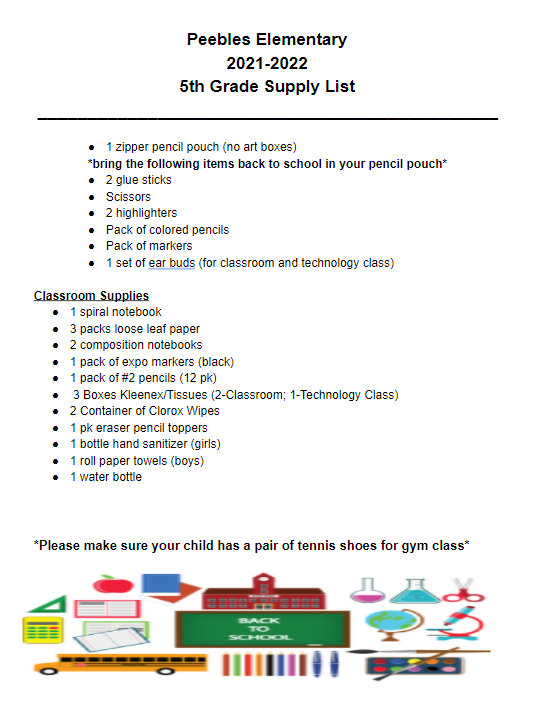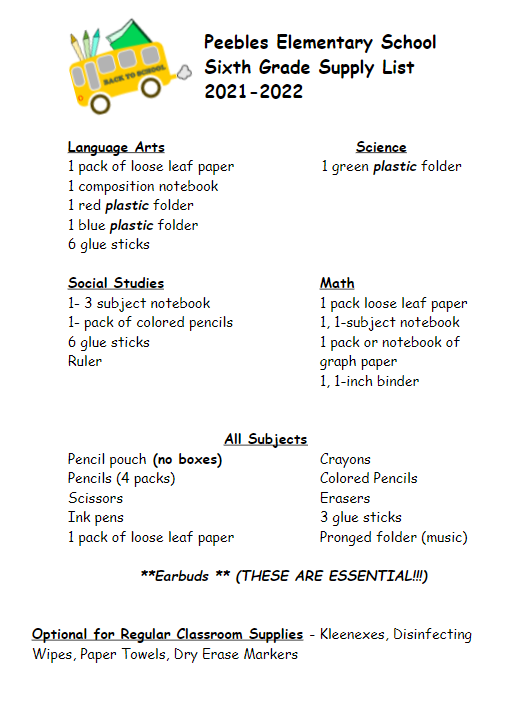 The Adams County Ohio Valley School District will hold their Regular Board of Education Meeting this evening Monday July 19, 2021, at OVCTC beginning at 6:30 pm. The meeting will be also be streamed on the District's YouTube Channel
https://www.youtube.com/watch?v=cUlNbnjN3j8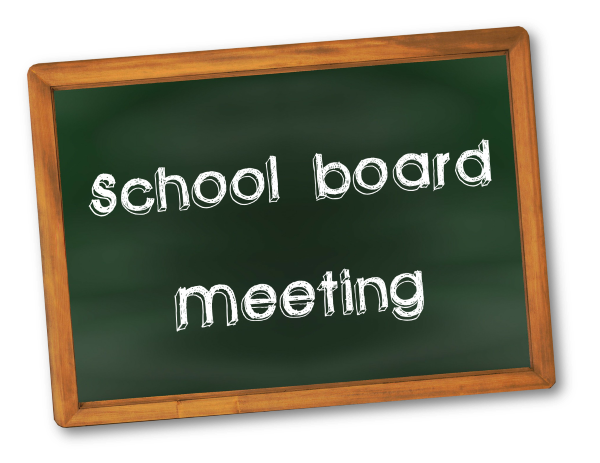 The Adams County Ohio Valley School District will hold a Special Board of Education Meeting this evening Wednesday June 30, 2021, at OVCTC beginning at 5:00 pm. The meeting will be also be streamed on the District's YouTube Channel
https://www.youtube.com/watch?v=rJo0DCZA5HA